Recent News
May 21, 2013
Soul Sisters Wine Tasting Tonight
What is new on your Website?
April 18, 2013
A new feature on your website will be the ability for us to be at an event and take pictures with our phone and add them to the website as articles in "Out and About."
We hope to have this feature running soon so that everyone can experience the event even if you are unable to attend. Please stay patient while we work on getting this up and running. With God more than we can imagine can happen!
Episcopal News Service
Episcopal diocese aims to mobilize parishes as St. Louis' homicide rate spikes
February 21, 2017
St. Louis has been called America's "murder capital" after a recent spike in gun violence that resulted in more killings per capita than any other major U.S. city.
Chicago recorded the most total homicides in 2016 at 762, but for a smaller city like St. Louis, its 188 killings last year are part of an alarming local trend that has prompted a renewed focus – including by the Episcopal Diocese of Missouri – on the causes and possible solutions of such violence.
"One death is too many," the Rev. Marc Smith said, but developing a plan of response to 188 deaths defies easy answers. "Looking for the elegant, simple solution is wrong," he said. "It is an incredibly complex problem."
Smith is the Diocese of Missouri's point person in the search for answers. Last year, he was named by Bishop Wayne Smith to the newly created position of deputy for gun violence prevention, and this year, the diocese and community are beginning to see some of the early fruits of his efforts.
One of his tasks is to help 36 community organizations coordinate more effectively on the issue of gun violence, but he's also trying to mobilize Episcopalians at the parish level to work toward an initial tangible goal: buying gun locks for gun owners.
Accidental shootings and suicides often are overlooked in the debate over gun violence, Smith said, but this danger is "probably the easiest to solve." He sent a letter to clergy in the diocese earlier in February outlining the diocese's new partnership with Washington University's School of Medicine and a group called Women's Voices Raised for Social Justice to support the group's Lock It for Love initiative.
Barbara Finch of Women's Voices Raised for Social Justice demonstrates a gun lock at a Lock It for Love booth in October. Photo: Women's Voices Raised
Lock It for Love aims to reduce the frequency of suicides and accidental shootings by children by distributing gun locks for free. Since April 2015, Women's Voices Raised has given out about 1,500 gun locks to families, mostly at health fairs and similar events, president Lise Bernstein said.
"Sometimes the issue of gun violence can just seem overwhelming and frustrating and depressing," Bernstein said. The focus on gun locks was a way to rally the community around a hands-on solution to one slice of the larger problem.
"We are very much interested in engaging as many people in the community as possible in addressing this issue of kids and keeping kids safe," Bernstein said, "so the interest of the diocese is very welcome."
Bernstein and Smith also share the belief that gun violence should be tackled as a public health issue, an approach that draws on Smith's experience as a health care administrator, including more than a decade as president of the Missouri Hospital Association.
Smith, who grew up in the St. Louis area, left the health care industry to become an Episcopal priest and was assigned in 2011 to his first congregation, the Church of the Ascension on St. Louis' north side. About six months into the job, he remembers attending the wake and funeral of a woman who was killed in a drive-by shooting. It was a somber scene he would witness again and again in the city.
"The sense of desperation and hopelessness and powerlessness is crippling," he said.
The opportunity to tackle the issue directly for the diocese grew out of ongoing conversations he was having with Bishop Smith about gun violence and public health solutions. The bishop asked last year if Smith would work toward those solutions in a new role with the diocese, and Smith agreed to take it on.
"Preventing gun violence is a critical issue in the communities of Eastern Missouri, especially St. Louis City and County," Bishop Smith said in a written statement to the Episcopal News Service. "I am glad that parishes in our diocese can find a focus for mission in this work, and Marc Smith, with his passion and experience, is well-suited to provide leadership for it."
National concerns, local solutions
Much of the national attention has been focused on Chicago's dramatic surge in homicides, which even prompted President Donald Trump to suggest he would send in federal authorities if the trend isn't reversed.
But while Chicago may have outpaced the United States' other largest cities, including New York, Los Angeles and Houston, smaller cities like St. Louis, Detroit and New Orleans have suffered from much higher rates of homicide per capita. St. Louis recorded nearly 60 homicides per 100,000 people last year.
The national murder rate, despite remaining under the elevated level seen in the 1990s, also has risen over the past two years, and the possible causes, from gang activity to policing policies, are hotly debated.
At the local level, gun violence prevention often emphasizes the practical. In St. Louis, for example, Smith said there is a group of black clergy known as "homicide ministers" who reach out to victims' families, attend funerals and provide assistance as it is needed. The Episcopal diocese is developing a plan to partner with the ministers.
Smith also is looking for additional, simple ways for Episcopalians to get involved.
"So many people have expressed a desire to help, and yet most people are not inclined or well equipped to be homicide ministers," he said.
He has asked each congregation to identify one parishioner to serve as a liaison to the diocese as it coordinates efforts. Each congregation can support Lock It for Love in its own way, such as by holding fundraisers for the money to buy the gun locks or by sending volunteers to help promote the campaign at health fairs.
Smith hopes this initial project will inspire Episcopalians in the St. Louis area to get active on the issue of gun violence and eventually help expand the diocese's outreach in ways that will address some of the underlying causes.
"Regardless of the debate over gun safety and constraints on guns, young people are still going to kill young people," he said. "And toward that end, I want our limited resources to try to minimize that from happening, to help families pick up the pieces and not get caught in a cycle of retaliation."
– David Paulsen is an editor and reporter for the Episcopal News Service. He can be reached at dpaulsen@episcopalchurch.org.
Anglican News Service
February 23, 2017
A service of rededication has taken place at St Saviour's Church, in Acre in northern Israel, which was closed in the late 1940s. This rededication follows the re-opening and re-dedication of St Paul's Church in West Jerusalem in 2011 – which was closed around the same time. There are also plans to begin the renovation of a third church closed in the late 1940s - St. Peter's in Jaffa-Tel Aviv.
The Anglican Archbishop in Jerusalem, the Most Reverend Suheil Dawani, in his sermon, expressed overwhelming "happiness, gladness and gratitude" and said the revival of the church and its activities will be a beacon of hope and faith. "This evening we, the Anglican Diocese of Jerusalem, with our sister churches, and the people in Acre, although we are from different backgrounds and affiliations, unite together to celebrate this important and historic event of rededication of this spiritual place after so many years of waiting. God has empowered us to revive God's house of prayer, and to re-open it as a space of welcome to all people without exception."
The ancient city of Acre expanded at the beginning of the 20th century to a population of around 9,000; it had six mosques and five churches. The Anglican ministry was started in Acre by the Church Missionary Society (CMS) when a school for boys was opened in 1874 and a school for girls was opned in 1887. The two schools later merged. In 1886, the first church committee meeting was held to elect a Pastorate Committee; the church's ministry included education, healthcare, and rehabilitation, especially among the needy. English lessons were held and there was regular Bible Study. As for the medical ministry, a small clinic was developed to a small hospital in the old city. Ten years later the hospital was closed and later the school as well. At the beginning of the 1940s the Pastorate Committee bought a piece of land in order to start a new church building with the help of parishioners and their generosity. The foundation stone was laid in August 1946 and the church building was ready for use by January 1947. However after the war of 1948 the majority of the parishioners at Saint Saviour's left the city and the church was soon closed.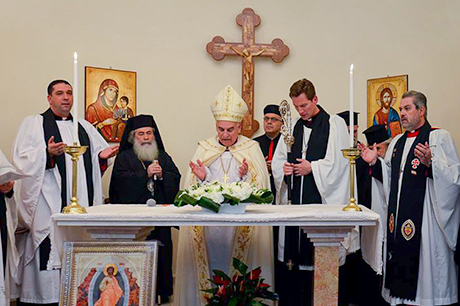 Archbishop Dawani expressed hope for its future after the rededication: "Our Christian theology invites us - even though we are diverse in worship, liturgy and theological thinking - to be one body in Christ Jesus. We are to reach out to those other religions, Muslims and Jews. We do not claim that we have no differences: on the contrary, it is natural to have this kind of diversity. We share in worshiping the one living God and our conviviality for the sake of true humanity which leads us to goodness, security, justice, peace, and prosperity for all. One of the basic needs that all the world strives for today - especially here in the Middle East which suffers so much through war, violence and extremism - is for a real peace that restores true humanity. The spectrum of the tragedy and the bitterness of suffering causes people to fear what the future will hold for them."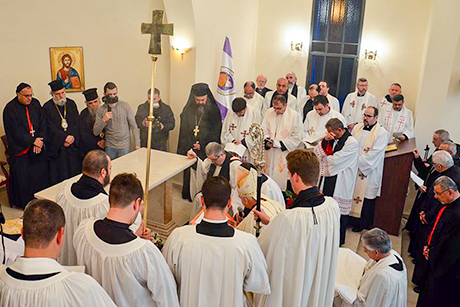 "There is a dire need for a new education that teaches people to respect life and to perceive the human person to be of a sacred value because we are all created in the image and likeness of God," he went on. "This new education will provide healing to the wounds of our bleeding humanity and restore relationships of broken societies. History has proved that war breeds war, violence breeds violence; yet we know too that peace can bring peace. Reviving the ministry of this church and its activities is to engage, share, and join together in God's mission in the world. We are to be bridge builders for love and mutual understanding. We are to strengthen the bonds of unity. We are to live together among the different monotheistic religions to the glory of God and service of humanity."